Digital Marketing Company
We, at SV Web Development, are a full-service Digital Marketing Agency in India that offers user-engaging and data-driven Digital Marketing Services at pocket-friendly rates. With clear goals and unmatched skill sets, we render different services including search engine optimization, social media optimization, email marketing, pay per click, and content marketing too. Using data analytics and performance metric tools, we help you to get more clicks and generate relevant leads to your business. We have 5+ years of Digital Marketing Experts with us that work on strict principles to find new customers for you and get a return on investment.
Social Media Optimization
We validate social media strategies and optimize them well to engage more social media fans to your website.
We uncover top insights with the help of focused product market research and transform your business into a profitable and productive field
Search Engine Optimization
Drive more relevant and organic traffic to your website with us. We will help you to convert relevant traffic into leads to your ever-flourishing business.

We uncover top insights with the help of focused product market research and transform your business into a profitable and productive field
Pay per click is much more than just running a Google Adwords campaign. We help you create the ecosystem of your business and customer drive using paid advertising.

If you want to increase your marketing investment, you need to measure the performance of your website. We measure these parameters using analytics and reporting tools.
We, at SV Web Development, perform email marketing to drive sales, increase conversions and ultimately, nurture useful leads. With our email marketing services, you can get in touch with the prospects all through the sales cycle and encourage them to approach your business for any product or service offerings. You should never miss a deal through emails. Just schedule a follow-up meeting with us and enhance your click-through rate up to 35%. Besides, we understand that email marketing is a low-risk and high reward tactic to generate a good return on investment.
Now, 90 out of 100 customers come from social media. It is very crucial for your business to make its presence on different social media platforms such as Facebook, Linked In, Twitter, Instagram, Pinterest and Google Plus, etc. CRYSTALTECH create social media content and share on different social media platforms to drive user's attention to your business. We have a dedicated social media marketing team that promotes your business on social media and enhances your brand loyalty. We create differentiated strategies to reach the targeted audience on social media and connect with a good customer base.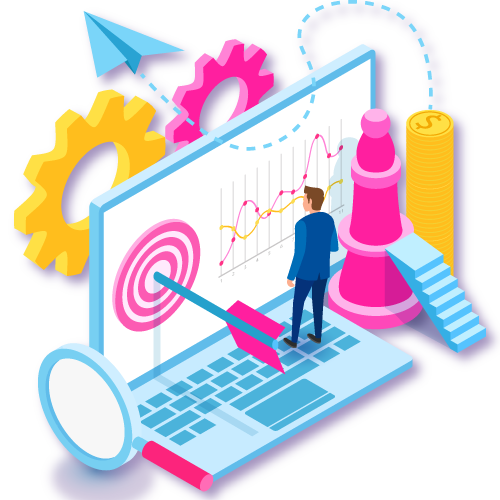 As per the current updates in the Google algorithm, search engine optimization is more about content, insight, and action to your website. At CRYSTALTECH we optimize your business website with relevant keywords, meta tags, and URLs that will help to rank higher on search engines like Google, Yahoo, and Bing. Our company makes successful SEO campaigns that can cater to the entire needs of SEO Services in India. We have SEO specialists who can get your business to the top of the organic search results. We assist you to increase your presence on the Internet and stay one step ahead of your competitors.
Technologies we work with
Get more business edge with the help of IT solutions developed in different technologies. Get in touch with us for your IT project needs in any of the technology we are imparting solutions in.