We, at SV Web Development do intelligent web development that can change the way you do online business and increase its productivity. We work on a bespoke content management system that works hand in hand for the completion of your order if it's an e-commerce store. Our top-notch Website Development Services in India help you to keep your business website on its tips and toes. Right from an interactive UI to responsive design for an e-commerce store, our leading Web Development Company in India utilizes all its technical power to help you. We make a functional website that stays at the top of the web development game and focuses on future growth.
We are leaders in performing server-side development. Our developers work on the server, API, database, cache, and different database languages.

We ensure that your databases are secured and scrutinized by using notable backup and recovery plans. And, we offer a secure database environment to store your confidential data.
Our team performs custom development tailored to your specific business requirements that can bring your products and services to the market at a faster pace.

Our web development agency tender security solutions to protect the data of your website and also, secure it from being hacked.
We are a reliable hosting service provider in India that can assist you to host a website. We have different operating systems plans to suit all types of professional websites.


We leave no stone unturned to develop robust e-commerce products at affordable pricing plans. Our developers assist you to have a sales-driven online platform.
We are a distinguished E-commerce Design and Development Company in India. Our company loves to accept challenges and put on the thinking hats to complete things on time with quality. For developing an eCommerce website, we think from your audience's perspective and make a fast, easy to access, and reliable website that assists in ordering and paying for the products and services online. Our dedicated team of E-commerce Web Developers in India takes your idea and works to convert it into an efficient digital masterpiece that brings success to your online business.
Being+ a Top Custom Software Development Company in Indore, Crystaltech work for both business to consumer and business to business clients. Our firm renders a complete range of custom software development choices including website, tailor-made software as well as web applications. Following strict programming guidelines, we assure integrity in every development project right from initial planning to deployment to maintenance services. Using state-to-the-art and the most recent technology trends, we provide creative custom solutions for all our client's needs.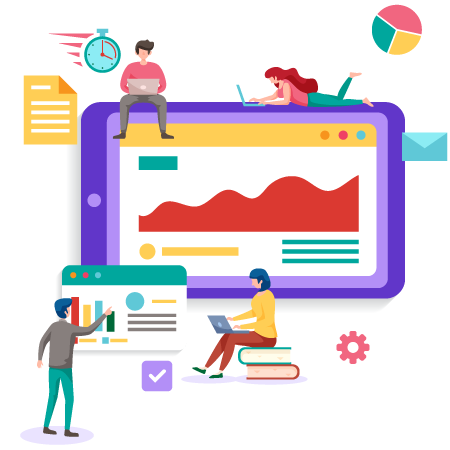 Third-Party Development & Integration
At CRYSTALTECH, we offer third-party development and integration services for Enterprise Resource Planning (ERP), Customer Relationship Management (CRM), Electronic Data Interchange (EDI), and so forth! We have developed good partnerships with our clients and implemented several packages of third-party development and integration. Ideally, our company design, implement and integrate IT solutions that can give the piece of data and services to you. Our service will also help you to get the real-time schedule of data and services whenever needed!
Technologies we work with
Get more business edge with the help of IT solutions developed in different technologies. Get in touch with us for your IT project needs in any of the technology we are imparting solutions in.