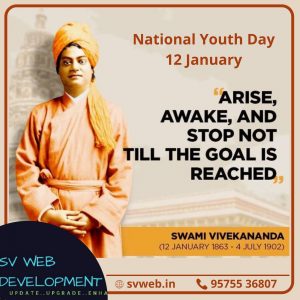 National Youth Day
In 1984, the Indian Government first declared to celebrate the birthday of Swami Vivekananda i.e. 12 January as National Youth Day. Since then from 1985, it is celebrated as National Youth Day all over the country.
Brief About Swami Vivekananda
Swami Vivekananda (Childhood name- Narendranath Datta) was an Indian Monk, born on 12th January 1863, and a key person to introduce the Indian philosophies of Vedanta and Yoga to the western world.
Swami Vivekananda was also credited to spread the Hinduism across the globe during 19th century.
He was also contributed to the concept of Indian Nationalism as a tool to fight against the British Empire in the colonial India. He is also regarded as a patriotic saint.
Vivekananda is best known for his speech which start with the words, 'Sisters and brothers of America'.., at the Parliament of the world's religions in Chicago in 1893.
Vivekananda founded the Ramakrishna mission in the name of his Guru Ramakrishna Paramahansa. His teachings about God, fear, life, love, leadership continuously spreading knowledge and enlightening people.
We (SV Web) are a website designing company. We have offices in Neemuch, Indore