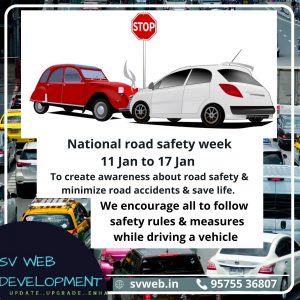 National road safety week is celebrated from 11th January to 17th January every year in our country India to create awareness about road safety and minimize road accidents & save life.
On this 2021 we are celebrating 32nd National Road Safety Week.
At first in the year 1989 awareness for the National Road Safety Week was celebrated and at that time about 36,000 had lost their lives. So this tragic story is related to the observation of this awareness week.
Later in the year, 2010 march 15 gave sanction to the National Road Safety policy by Cabinet Union of India which was recommended by the Sunder Committee through a written document in 2007 February.
30th National Road Safety Week 2019 theme, 'road safety is life safety'. Safety of the roads depends upon us to follow every rule of traffic or to improve infrastructure, then only our life will be out accident risk.
31st National Road Safety week 2020 theme, ' No need to speed'. Severe accident issues or maximum accident cases are due to the speed of vehicles where people died on the spot.
Set it in the mind and do not speed your vehicle. It is better to arrive late than no arrival.
32nd National Road Safety Week 2021 theme, ' Safe yourself to save your family'. Apply all the safety measures while going through a vehicle and always follow the traffic rules.
If we do not safe ourself then it is more chance to be in problem. Only you and I know that how much important we are for our family. Keep it in mind and drive safe drive carefully.